High lake trout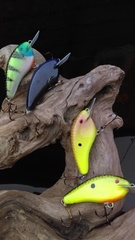 This lure took so long. I have been slowly working on it. It has been hard between school and work to find the time to build lures and usually I am spending that time fishing.
11 inches long and very heavy. I
sealed and coated it with Art Resin. I really enjoy the stuff for these bigger gliders.
I couldn't foil this bait so I had to go with bubble gummy opaque colors. I don't mind it though. I decided going for a less realistic look would also be easier with my painting skills. I don't think you can tell in the picture but I had to re-coat it and get off as much dirt as I could after the tuner mysteriously fell to the floor at 4 am. I think there was a cat or two involved.