15680022393187315754493391325010.jpg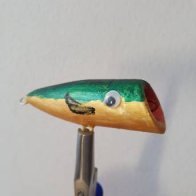 My 3d printed popper. 11 centimeters long and 20 grams in weight. The design is mine, made in Blender and Tinkercad, and printed in PLA. Twisted wire eyes for the line tie and hook hangers. 
This is still an experiment, so I still have to work on sealing, painting, and clearcoating. Also want to test and find out its breaking point, so this won't be intact for long. Will update when finished. 
Edit: The lure failed under a load of 16 kilograms (35.2 lbs). However, the failure occurred along a weak line, an incompletely fused layer, and so I assume that with a good print, the lure will be able to handle another 2 to 3 kilograms. 
---
Photo Information for 15680022393187315754493391325010.jpg