Drunk Lure / Common Objects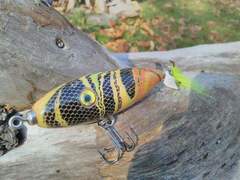 Hey guys. I was cleaning off my bar this morning and threw this together with things I would normally throw out. I am not going to paint it or clear coat it . 1 beer cap, 1 wine cork even the tail is the tab from a beer can hole.

Don't worry I am not a drunk:nuhuh:. I used to make things with corks as a child and I guess I am still fascinated with them.