3d Sunrise Shad With Fiber Optic Eyes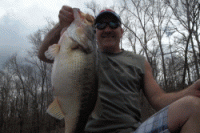 A Big Thanks To Creek Monster For The Fiber Optic Tutorial !!
This was my first try at painting some lures and adding Fiber Optic eyes. The fiber optics makes the eyes glow like crazy when the sun enters one end. Sorry for the poor pics, it was getting close to dark.
Patrick