Tenn Tom Waterway Shad (Photo Finished)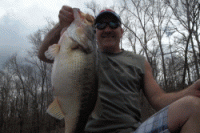 I painted this swimbait for a friend at work, He caught and froze the shad. I was going to try to do the real skin finish, but I think it would have worked better if the shad had not been frozen. All of the scales started to come off as I skinned the shad.
I snapped a picture of the shad, before I skinned it. This is a bait I painted using the picture of the shad!!