Hello Everyone my first day finding this site and I'm really enjoying all of the knowledge posted by all of you!

I'm from SoCal and wanted to start making some lures, here is my first attempt!
10/10/08

I started working with my Father-in-Law to try and make some wood swimbait lures.

We spent the better half of the day working, figuring out things,
and shopping for parts...

This is a few pics of today. We have our work "cut" out for us, but, thought I'd share our progress.

Day One
#1





First ones will be made of Poplar, to get the feel of things, we will use a harder, heavier wood when we get the shapes down.







Sanding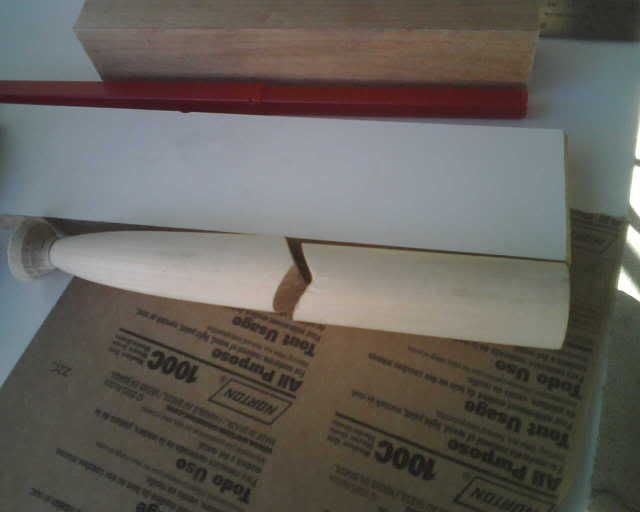 Here is the beginning of #2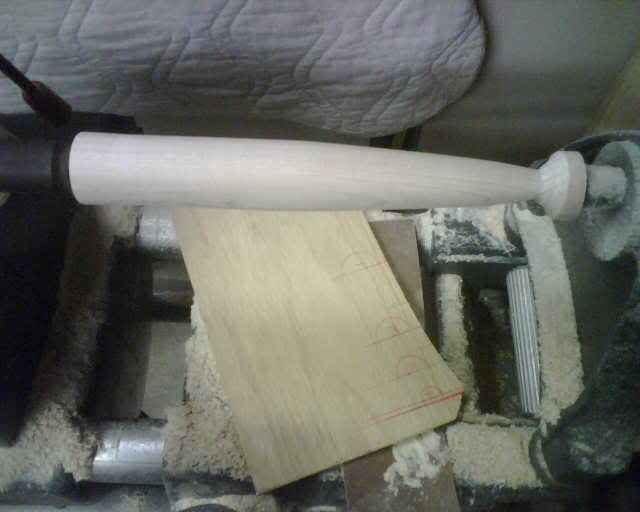 It was a learning experience, with much more learning and working to do.....I'll keep you posted.....

SCG7

10/13/08

Made a few bodies today while the F-I-L was making some jigs.




10/14/08

First two protos were Hem fir, the next six are Poplar.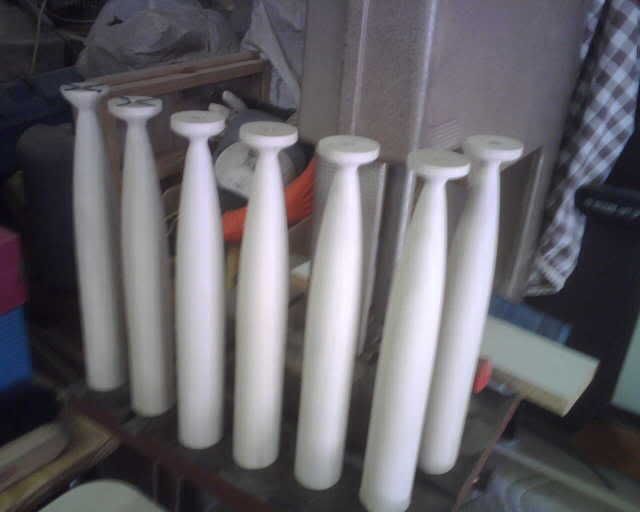 Figuring some wiring




#1 still in early stages




http://i289.photobuc...DAxNDMuanBn.jpg


10/15/08

Six starter bodies

http://i289.photobuc...DAxNDcuanBn.jpg

Some sanding

http://i289.photobuc...DAxNDkuanBn.jpg

Final cuts

http://i289.photobuc...DAxNTEuanBn.jpg

And the First SoCal proto...

http://i289.photobuc...DAxNTIuanBn.jpg

Hitting up BPS for Hardware and hooks and real swivels tomorrow....

10/23/08
Had some hardware delivered, now just making the various jigs that need to be made..Got a new system for the lathe, the bodies will be more uniform.

http://i289.photobuc...DAxNTYuanBn.jpg



Proto #1 and #2
http://i289.photobuc...DAxNzcuanBn.jpg

Proto #2

http://i289.photobuc...DAxNzQuanBn.jpg

11/06/08
Proto #2

http://i289.photobuc...DAyMDIuanBn.jpg

http://i289.photobuc...DAyMDMuanBn.jpg

Will have this proto with hardware completed and ready to paint by next week...!


11/07/08

Proto #2 put on sealer today needs 72 hours to dry

http://i289.photobuc...DAyMDQuanBn.jpg

http://i289.photobuc...DAyMDYuanBn.jpg



We got some paint today and practiced on some scrap wood, How does it look?

http://i289.photobuc...DAyMTIuanBn.jpg


11/17/08

I got my first taste of airbrushing today !

http://i289.photobuc...DAyNTAuanBn.jpg

http://i289.photobuc...DAyNTEuanBn.jpg

11/19/08

Did some strength test today. The lure held up! We dropped a 15 lb weight attached to the rear hook. From two feet. The 50 lb split ring busted but the lure held up.
Had to change the under-body swivel to accommodate the 50 lb split ring.

http://i289.photobuc...DAyNjcuanBn.jpg

Picture of some of the heads.

http://i289.photobuc...DAyNjEuanBn.jpg

And bodies, we have six starters.

http://i289.photobuc...DAyNjIuanBn.jpg

http://i289.photobuc...DAyNjUuanBn.jpg

http://i289.photobuc...DAyNjMuanBn.jpg

11/23/08

My Father in Law had put the primer on the six bodies yesterday so they were all ready for some finish sanding and painting.....Finally..!!!!!

Here they are with primer.

http://i289.photobuc...DAyNzEuanBn.jpg


First job was to airbrush the bodies white on white primer...( real fun)

http://i289.photobuc...ics/photo-2.jpg

Completed with white base coat.
http://i289.photobuc...ics/photo-5.jpg

Then we mixed some custom green paint. And used it next.

http://i289.photobuc...DAyNzguanBn.jpg

http://i289.photobuc...cs/photo-10.jpg

Next mixed up some pink.

http://i289.photobuc...cs/photo-12.jpg

http://i289.photobuc...ics/photo-7.jpg

Then added some black dots.
And finally after some drying, the clear coat.

http://i289.photobuc...DAyODEuanBn.jpg

http://i289.photobuc...cs/photo-15.jpg

A finished one. Will add hardware, hooks and eyes tomorrow!

http://i289.photobuc...cs/photo-14.jpg

11/24/08

Today was the day...!

With the Dodoman trip to DVL tomorrow, we decided to quickly try to complete one lure for testing out on the boat. So we sped up our process on
the six and completed one today.....Tomorrow is the Test!





SCG7