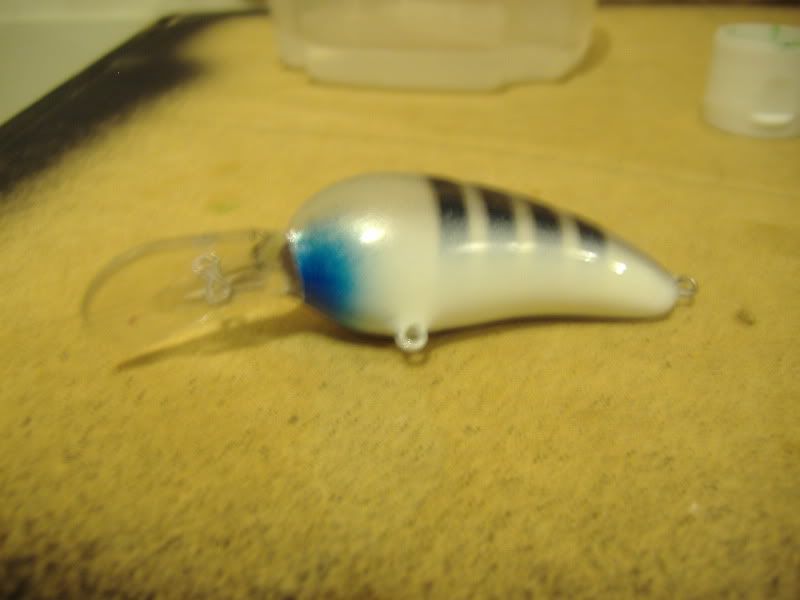 Ok, this guy I actually epoxied. White base, silver pearl all the way around, black stripes (used a pick comb as a stencil, I'll get back to that in a sec), white belly, retaped the top and redid silver on top, then blue spot at front of belly.
The picture makes it look alot better than it is
. Pick comb worked good as a stencil except it didn't conform to the body of the crank so I had overspray behind the comb. Also, the lines didn't line up and I didn't really want the lines to run all the way to the top so I decided to tape off the sides and respray the top with silver. Unfortunately it took about 3-4 coats before I had the black completely covered up, this made for a sharp tape line once the tape was removed. In retrospect, I probably just shoulda turned down the psi and paint and got in close and shot it without tape, would've made a good gradient look. Oh well, I know for next time.
Epoxied it with Devcon 2 ton, that was an experience in its own. Stuff is supposed to be "workable" for 30 minutes, after about 10 minutes I noticed some spots on the top that weren't looking so great so I decided to add a little to help even it out. I probably shouldve just left it alone. Stuff was already really tacky (my 100+ degree garage doesnt help the matter any), so of course it didnt settle and now I have a bumpy and crummy looking top. ALSO, I stuck a toothpick in my front hook eyelet so keep it from filling with epoxy, just make sure to keep it moving around as you're turning the bait and pull it once the epoxy starts to firm up so it doesn't get stuck in there.
Crummy pic, I know, but you can see the bumps I'm referring to.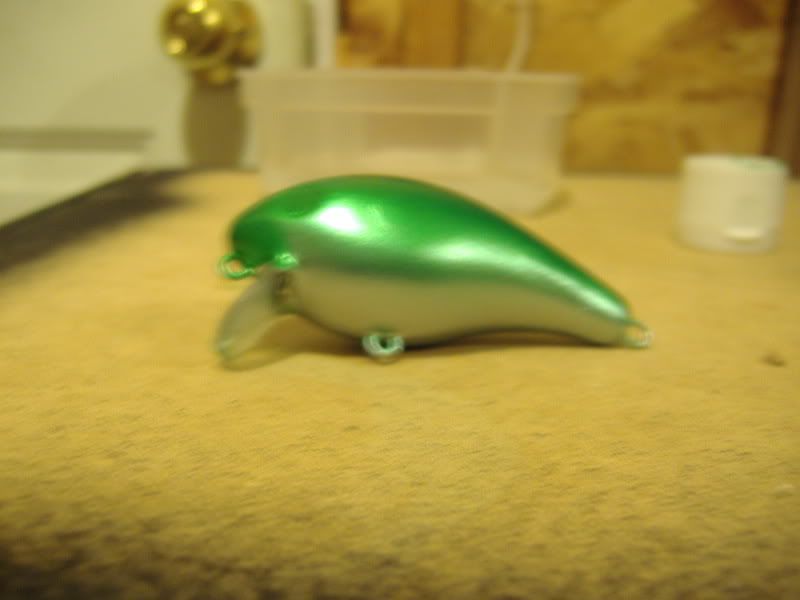 This guy got a base coat of white, then pearl green, then a pearl silver belly. Was just looking for an easy pattern. Haven't epoxied this guy yet, it's a good enough looking paintjob I want eyes on it before I epoxy it. You can't see it in this picture but the bait originally had shad spots on it and a manns logo near the tail end, I couldnt get these sanded completely off and it shows through the paint, but oh well.
So? Tips and suggestions appreciated. Next step is to get some unpainted baits and start actually trying to paint some patterns that make sense.