I was playing in the lab at school one day when I decided to try this out. This is a stirring plate with a jar of partially dissolved propionate. I inserted a magnetic stirring bar (which is about 1" long) inside the jar. Pretty simple, the plate spins a magnet and therefor forces the stirring bar to rotate. I'm stirring the solution very quickly right now and it seems to be doing well. I'm hypothesizing a completely dissolved solution in a few hours. If I would have thought a little more in advance, I would have just gradually added pellets to the acetone. Nevertheless, it appears to be dissolving much much faster than just having it sit on a desk.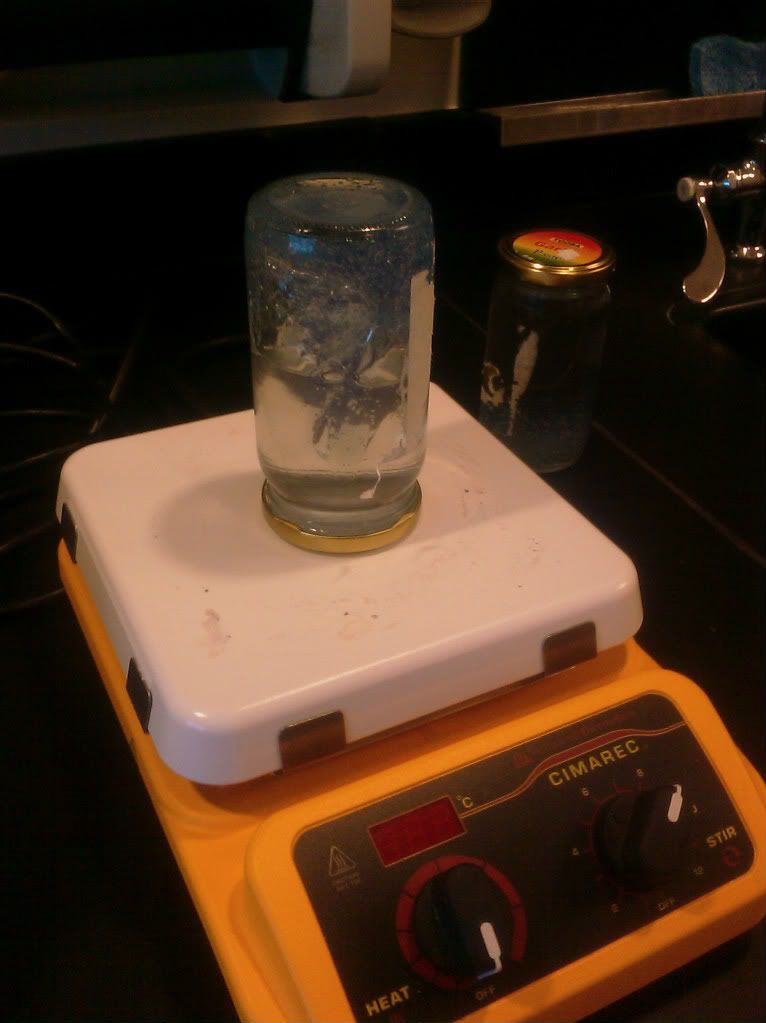 Since I put the pellets in the solution last night, the pellets formed a "puck" at the bottom of the jar. Thus, when I put
the stirring bar in I had to invert the jar so that the "puck" slowly dripped down toward the stirring bar... quite mesmerizing actually.
Also, I'm trying another mixture as well. 1/3 acetone to 2/3 virgin thinner. The other day I combined what was left in an acetone jar with some from a virgin jar and it looked like the finish came less blemished. Eh, guess and test.
For those of you that suspend your lure in a jar w/ a drop of acetone (to acquire the clear finish) how big of a jar are you using? I've tried this with normal mason jars and it seems to take a very very long time to dry. Also, It looks like half my coating drips off too. The finished lure does have a clear finish, but its a very timely process for one lure. Anybody have a set-up they would mind sharing for doing say 10 lures at a time?