Has anyone else have a problem with epoxies dissolving paints and causing them to run & bleed? I used straight E-tex, no solvent or thinner, and had the color bleed from this 3D eye. I?ve also noticed the E-tex becomes tinted when applied over baked/oven cured powder paint. After coating with epoxy, I hang my spinnerbaits to cure with the hooks down so that the epoxy flows and drips off the hook and I can see a slight tint of color in hardened droplets that form on the hooks.
Here?s a pic of a white spinnerbait with orange 3D eyes, it?s illuminated with black light so that the color streak from the eye will show.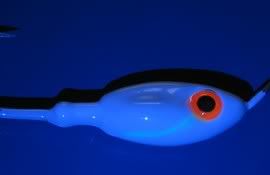 http://i7.photobucke.../epoxybleed.jpg
BTW, I would try Devcon, but I can?t find any here in Canada.