I thought to post this up as it dawned on me that a great many people here have never saw let alone fished a true "Tin Squid".
Back, during the Eisenhower Administration, when I was cutting my teeth by hanging around the Tackle Shops of Coney Island and Sheepshead Bay, Cy from Cys Tackle on W 16th St taught me this: We used to make our own tin squids. They came out of the mold flat. Cy taught me that to have them work properly, they should be bent so that the head and tail are parallel. Tin was quite maliable and allowed for "Field" adjustments.
Now that finding tin is like finding hens teeth, I've resorted to using a lead, zinc, antimony alloy for my "Tins." As I only make personal use sized lots, I made this mold from Bondo. It wasn't practical to have them plated (the alloy dulls and tarnishes and doesn't have that bright patena that tin has) so I was force to improvise. First I had to bend the lures when they were still very warm. I then cleaned away the flash and spue.
Then what I did was spray the lure with spray adhesive and foil it with aluminum foil, first one side then the other. Once the adhesive thoroughly dried I coated it with Devcon 2 ton. Heres how it turned out. The top one was foiled, the bottom isn't yet.
These lures are 4.5" long and weigh about 3.3 oz.
FYI what weighs 1 oz. in lead will weigh only 5/8 oz in Tin.
The SHINE.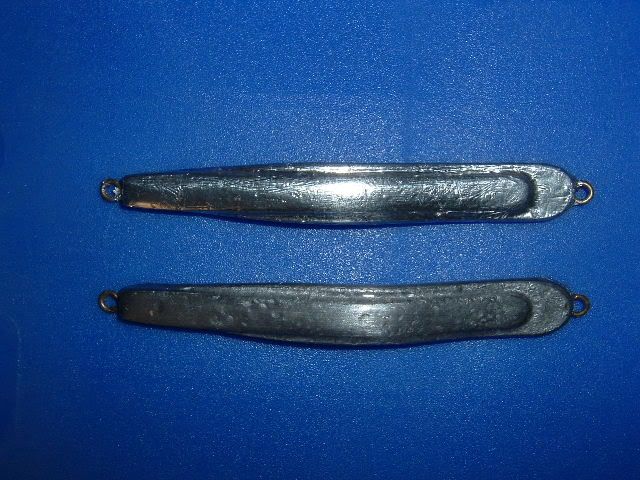 The Bend