Annual Coolest Lure Contest

The Coolest Lure Contest is run annually to give Tackle Underground members a chance to showcase their skills and show the world what they can do!
Contestants compete for prizes in the following 6 categories:
1 - Best Custom Painted Hard Bait (best paint job on any lure blank)
2 - Best Handmade/Homemade Hard Bait (no factory blanks)
3 - Best Wire Bait (Spinnerbaits, Buzzbaits, jigs, spoons, etc.)
4 - Best Soft Bait (Hand poured or hand-injected – no factory baits)
5 - Best Fly
6 - Best Custom-built Rod or Custom-painted Reel
The Coolest Lure Contest is sponsored by Lure Parts Online.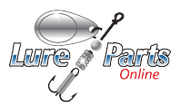 Lure Parts Online provides the prizes that are awarded to the winners at the end of the contest. These prizes are in the form of gift certificates that can be redeemed to purchases products at LurePartsOnline.com or AnglersWorkshop.com Gift certificates are delivered digitally, and they can be used to make purchases online or over the phone.
Contest Schedule
Lure Submissions: April 1, 2022 (12 Noon Eastern Time) - April 29, 2022 (12 Noon Eastern Time) Voting by Judges: April 30 - May 13 Winners Announced: May 16 Prizes Awarded: May 18
Prizes
The following prizes will be awarded for each category:
1st prize - $100
2nd prize - $50
3rd prize - $25
Criteria for Judging
Overall Appearance Originality Complexity of Construction Quality of Finish
Top